Well after a very slow start on teal season, I was greatly anticipating the opener of first phase of regular season. Another chance for me to get my Black Dog on some birds, see how well the training has paid off. Saturday dawned with me getting to my spot a little later than I anticipated but no one was there so I got set up as quickly as I could. I was not sure what the water levels were like at my spot and so was only hauling the decoy sled through the marsh. Very quickly I found it was too deep for dogs, so into the sled my Black Dog went. It wasn't the most stable of platforms for him but with me standing on one side to help counterbalance his weight it wasn't too bad.
There were lots of teal and I shot well on them. There were some other bigger ducks that I shot extremely poorly on. I was watching the Mottled Ducks pass by on the other side of the pond where I was hunting and as it got later in the day I moved us over into some slightly tall grass, grassed the sled up as best I could and hunkered down and waited for them to fly by. Not three minutes later I had a pair flying straight at us, I shot and one came down, into the grass we were in, crippled, not 15 feet from us. I sent my Black Dog after the bird, following along behind him. This stuff is pretty thick above and below the water so I was keeping an eye out for the bird so that I could shoot it if necessary. My Black Dog caught her scent and off he went a followin his nose....I saw her at my 3 oclock, and shot her, letting him continue following his nose...and he did...right to her. I was so thrilled. Sure is fun having a dog to hunt with. I decided to call it a day since that was a most excellent retrieve on his part and my shooting was sorely lacking that day. End on a good note ya know.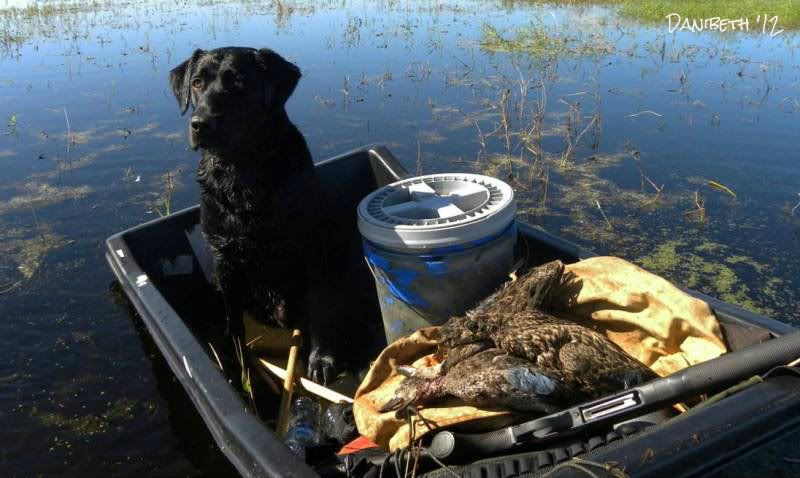 The next morning we were out earlier and in place just at legal. I decided we'd give the sit on top kayak a try that morning. My Black Dog took a little getting used to the idea, but he eventually figured out that it's not the best idea to sit on the edge cuz you just might slip off into the water. But he figured it out.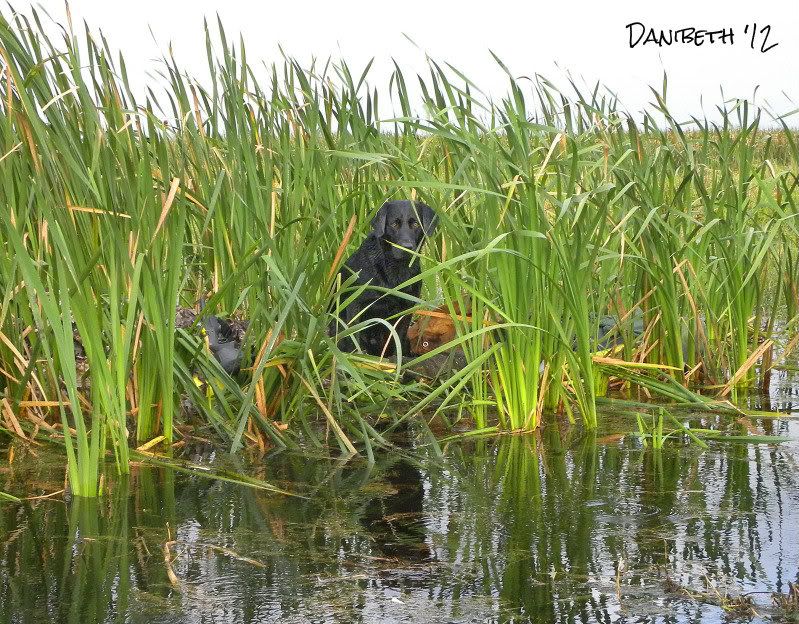 The first flock of the morning was a group of teal with a big duck that came in with them. I watched the teal land in the decoys and the big duck continued on, swung right around, put the landing gear down and down it was coming. I shot and when I shot the teal got up and I shot again at a teal....A DOUBLE for the morning. The big duck was a purdy drake gadwall. Later on I had a mottled duck drake that came decoying in so pretty, as well as more teal. The Black Dog had to do a blind retrieve, taking hand signals from me, which he did quite well, as well as hunting up a "dead bird" that decided it was going to pretend to be a fish and chill out under water. He found her quite well too. I was very proud of him.
So we had a most excellent weekend for our opener. It sure is fun to hunt with a dog, and it's nice to have "someone" along with me, even when I'm hunting solo. I do believe I have me a bonafide duckdawg...can't wait to try him on quail and snipe this year. See how he does with those little buggers.
Dani